Labels for reclosable packaging: life cycle and recycling
Practical for everyday use and totally customisable, discover the life cycle of our easy open and close labels, adapted to your packaging!
Your reclosable packaging functional label: from source to recycling.
Your easy-to-open/ and reclose label can be made from different materials, paper-based or synthetic, etc. The adhesive raw material is received in reels. It is then printed and cut into label rolls. These functional labels, also known as repositionable labels, are then applied on the packaging film. The added value film is then sent to you for you to package your products without any changes to your process. Once the contents have been put inside, the reclosable packages are returned to the distribution circuit without any possible damage during logistics or until they are totally used by the consumer.
Your opening and reclosing solution, which is an integral part of the packaging, is recyclable with the packaging itself!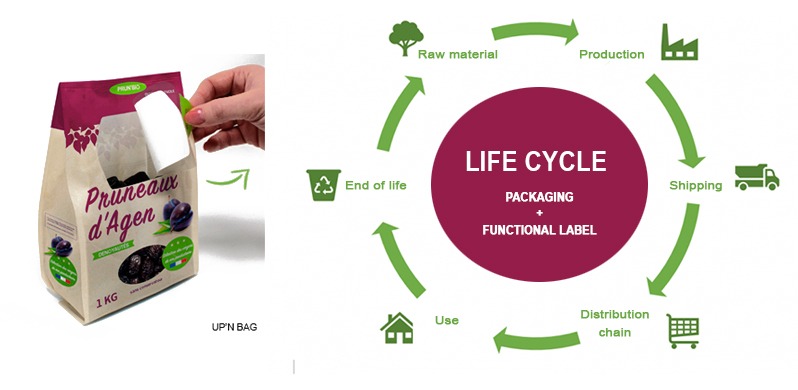 Discover our mono-material range, more virtuous for the environment!
Etik Ouest decline their easy opening and reclosing labels in the same material as the packaging itself. The functional label is made of the same material on which it is applied. The combination results in an eco-designed, recyclable packaging, which is both eco-friendly and convincing for the consumer.
Choosing an easy-to-open and reclose label means standing out with a flexible, modern, creative shape. This functional label, which blends in with the packaging, is a real practical means of differentiation, a seduction tool from a marketing point of view and allows for functional, fun and design packaging!
Discover our Up'n Mono-material solution with applications, functionalities and advantages for your packaging.
Would you like to integrate an easy-to-open, easy-to-close label on your packaging?
Do you want to stand out from the competition with a functional packaging design?
Do not hesitate any longer and consult us!