Easy to open packaging with re-seal,
Up'n Bag
Solution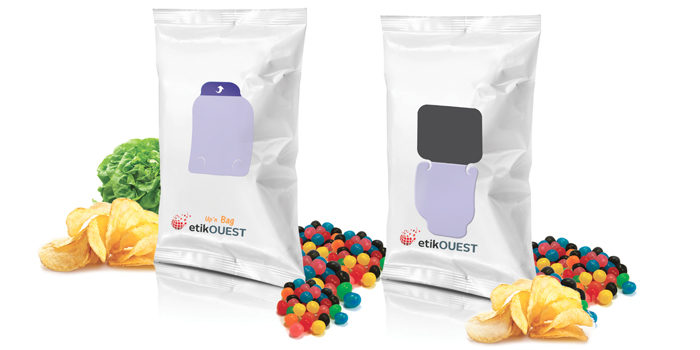 Characteristics of the Up'n Bag easy opening and closing solution
You are looking for an easy-opening label for your packaging? Up'n Bag is THE solution!
This easy open and close solution works like a wipe label. The label is placed on your film under which an opening is pre-cut out and is limited by a hinge. This allows a very wide opening, ideal for picking up or pouring products. All opening shapes are possible and the label can be opened and closed endlessly!
Up'n Bag is a practical and economical opening and closing label for packaging.
The advantages of reasalable packaging with an easy-open label
Up'n Bag fits on:
FLOW

PA

CK
DOYPACK
QUATTRO SEAL
DOUBLE SQUARE BOTTOM BAG
Solution:
Up'n Bag is an easy opening and reclosing solution. Thanks to a hinge, the bag keeps wide open and allows consumers to take out or to pour products comfortably.
Applications:
Agrifood industries and other industries
Dry and fresh products (grainy, powdery, pieces)
Adapted to all kinds of bags (flow pack, quatro seal, doy pack)
Industrial advantages:
Reduction of the packaging cost, less expensive than a zip or a cap
Innovative solution, a product different from the competitors'
Customization with respecting the marketing identity
No transformation on the production line. No loss of yield
Secured first opening thanks to tamper evidence
Functionalities:
Convenience of the packaging
Preservation of contents (airtight, barrier)
Easy picking or pouring
Easy-to-use system from child to senior