Reclosed Frozen Products
Solution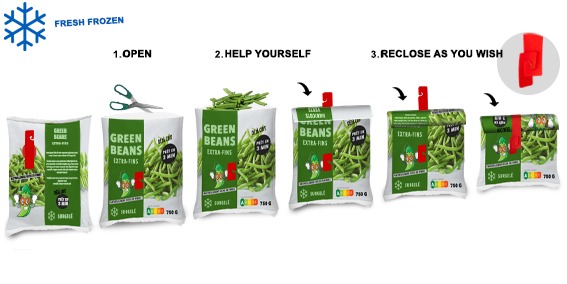 Characteristics of the easy reclosing packaging for frozen products
You are looking for an easy opening and reclosing system for your frozen food packaging?
Reclosed Frozen Products is THE solution!
After having opened the top of the bag, pour yourself, then reclose the packaging by folding the bag over itself and clipping the semi-rigid non-adhesive hook onto the other hook.
This Reclosed Frozen Products opening and closing system is adapted for frozen products.
The advantages of reclosable packaging
Solution:
Reclosed Frozen Products is the solution to reclose bags on PE or PET/PE containing products to go to freeze. Once the packaging has been opened on the top of the bag or on a corner, the consumer helps himself before reclosing the packaging by folding in on itself while putting the male hook in the female one, on the opposite side. The bag can not open itself undesirably in the freeze and the hooks replace any clamp.
Applications:
Frozen products conditioned in bags
Can be used on flat bottom flow pack pouches, on Doypacks, Double square bottom or Quattro seal bags or on Pillow packages
Industrial advantages:
Mono-material recyclable packaging
Innovative and playful marketing
A differentiated product for you
Improved comfort for your consumers
Product integrity guaranteed
Functional packaging until there is no product left
Functionalities:
Closing system with a non-sticking clipping mechanism without any risk of condensation
No risk of leakage thanks to the fold of the bag on itself
Preservation of the contents in their original packaging
A progressive reduction of the bag