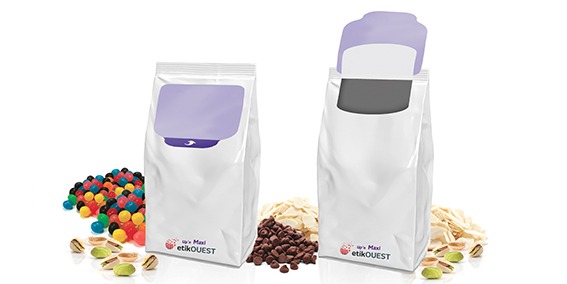 Characteristics of the 
easy opening
labels
for reclosable packaging
To make your own resealable packaging, turn to the Up'n Maxi reclosable labels' range. Etik Ouest's flagship innovation, this closure for packaging is very easy to use.  Simply pull the tab on the label; the slit, pre-cut in the film, runs along each side and stops at the horizontal seam. The closure is done by simply folding down the label: Easy!
The reclosable label is particularly adapted to small flexible packages of sweets, cereals, crisps or biscuits or ironmongery, screws, … It preserves food freshness and crispness without altering taste. The Up'n Maxi solution suits to many kinds of packages.
The advantages of resealable packaging
Up'n Maxi fits on :
FLOW PACK
DOYPACK
QUATTRO SEAL
Solution :
Up'n Maxi is a system that allows to open a packaging cleanly and easily. Just pull on the label to open. The slot, which is placed on the film, runs on each side and is stopped by the top sealing. Closing is done by lowering the label: easy ! This clever system is part of the packaging and no residue left after use.
Applications :
Agrifood industries or other industries
Dry, fresh, fat products
Adapted to Flow pack, Doypack, Quattro seal bag
Functionalities :
Opening without tool
Simple closure
Practical pouring
Preservation of content  in its original packaging
Industrial advantages :
Hermetic system and barrier before the first opening
Functional packaging until entire consumption of the product
Packaging process preserved
Customization possible according to your graphic charter