Easy closing opening labels,
Up'n Maxi Plus
Solution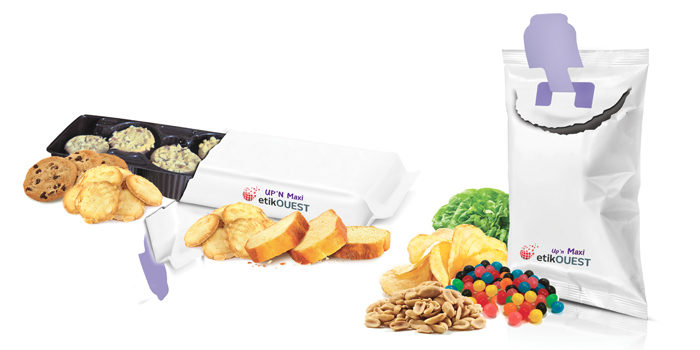 Characteristics of resealable opening labels
You are looking for a label that cleanly open your packaging? Up'n Maxi Plus is an economical and discreet solution for generating, easily, a large opening to remove your products from their packaging. It also allows easy resealing of the packaging for better preservation of its contents.
This self-adhesive label is equipped with a tab that can be pulled to open the packaging wide. Closing is simply done as folding down the label: a child's play!
This solution is applicable to food industry or other sectors such as material market. You can use it for confectionery, cereals, snacks, hardware, etc.
The Up'n Maxi Plus solution suits to a wide range of packaging.
The advantages of packaging with easy opening and closing
Up'n Maxi Plus fits on :
FLOW PACK
QUATTRO SEAL
BAG WITH X WELDED FOLDS
Solution :
Up'n Maxi Plus is put on packaging film and helps consumer to open and reclose it widely.
Applications :
Agri-food industries or other Industries
Multiple of fractional use
Adapted to flow pack and seal system
For examples : backery, pastry, cold cuts, confectionary, grains, pet food, snacking, health & body care, hardware, …
Functionalities:
Very wide opening to remove the products or the tray of the packaging film
Easy re-closing of the packaging
Intuitive system
Easy-to-use system from child to senior, without any scissors or knife…
Industrial advantages
One of the most economical system of the whole market
Tightness guaranteed and barrier against oxygen and water vapor before first opening
Packaging marketing preserved
Use of the packaging until entire consumption of the product
Customization according to your graphic charter
No modification on the production line, production rates maintained
Suitable to mono and multi-layers films