Opening and closing labels,
Up'n moving Bag
Solution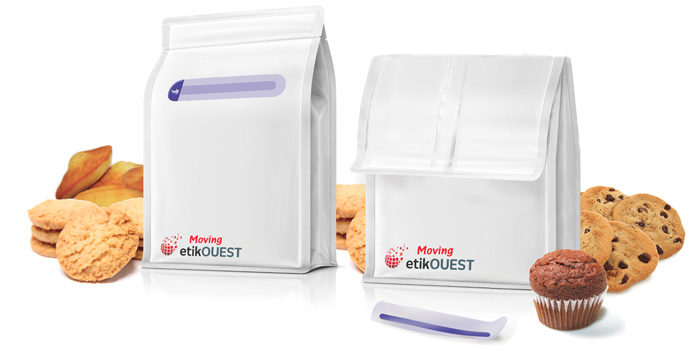 Characteristics of the easy opening and closing adhesive labels 
You are looking for a functional and practical label for flexible packaging? Etik Ouest offers you a range of Up'n Moving Bag opening and closing labels! A solution that guarantees easy use.
This opening and closing label has an adhesive strip that can be detached to create an opening on your packaging. This one closes in on itself: so smart!
The easy opening and closing label, Up'n Moving Bag, suits to all products, whether they are dry, fresh, wet or greasy. It allows for an optimal preservation of the contents in their original packaging.
Up'n Moving Bag is a functional and economical opening and closing solution, it is attractive for consumers and becomes indispensable for your packaging! This adhesive label matches your packaging, no matter its shape.
The advantages of easy resealable packaging
Up'n Moving Bag fits on :
DOYPACK
FLOW PACK
QUATTRO SEAL
Solution :
Up'n Moving Bag is an easy opening and reclosing solution. You juste have  to release the wide and comfortable cut to open than it allows to pour or to take the product. Around the opening, an adhesive zone keeps the bag close.
Application :
Dry, fresh, moist, fat products
All types of packaging film (PEPP, OPP / PE, PET, CPP…)
All industries combined
Functionalities :
Opening without any tool
Closure of the bag by folding it
Easy and comfortable picking and pouring
Reduction in the size of the bag as the product is used up
Preservation of content in its original packaging
Industrial advantages : 
Innovative packaging
Functional packaging until product exhaustion
Hermetic system and barrier
Packaging marketing preserved
No transformation on the packaging lines
Rate of bagging maintained
The most economic opening and reclosing system