Easy opening quattro seal packaging,
Up'n Spout
Solution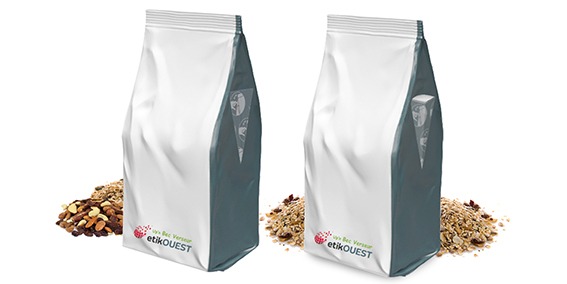 You are looking for an opening and closing solution to facilitate pouring of products? Etik Ouest offers Up'n Spout solution!
This opening and closing system for packaging is very easy to use. An adhesive label combined with a spout make up the opening and closing solution. To open the package and pour product, you only have to manually remove the adhesive label and then deploy the pouring spout positioned in the gusset of the package. A slight pressure of the finger allows to put back the spout "flat" and so to close the bag until the next use: so easy!
The Up'n Spout solution is particularly suitable to dry products such as cereals, seeds, snackings, etc., but also for powdered products (flour, sugar, etc.).
Thanks to the reclose of the spout, products stay fresh and the bag is easy to store!
The advantages of the resealable package with the spout
Up'n Bec Verseur fits on :
Solution :
Place in the bellows of the quattro seal bag, the spout allows to open the packaging without tools (scissors, knife… etc) and to pour the product cleanly and comfortably, you only have to press on the spout with one finger and to reclose the bag until next use.
Applications :
Agri-food industries or others industries
Dry, fat, powdery products (for examples : dried seeds, snacking, confectionery, cereals…)
Exclusively for quattro seal bag
Functionalities :
Opening without any tool
Easy and very comfortable pouring
Preservation of content in its original packaging
Industrial advantages :
Hermetic system and barrier before the first opening
Functional packaging until product exhaustion
No transformation on the packaging lines
Customization with respecting the marketing identity
Playful packaging