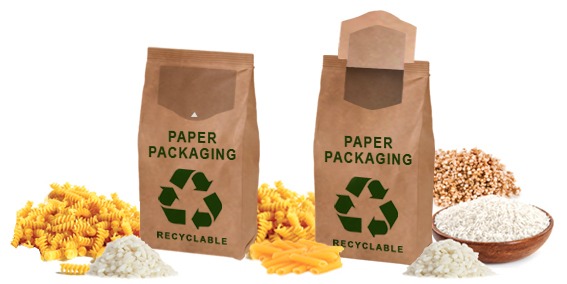 Up'n Maxi Paper characteristics: opening and closing label for paper packaging
Choose a recyclable and functional paper packaging solution! This paper opening and closing system allows you to open and close a paper bag without any tool, with ease and without tearing it.
Use is so easy: simply pull the grip tab up for the slit, pre-cut in the paper, to run to each side and stop in the seal of the package. The closing mechanism is very easy: you just have to fold down the paper label!
This opening and closing paper solution can be used with small flexible packaging. It allows the preservation of dry products such as rice, pasta, dried seeds, cereals or candy. This paper packaging can also be customised for non-food products.
Paper packaging reclosable system: advantages
Up'n Maxi Paper can be used on
FLOW PACK
DOYPACK
QUATTRO SEAL PACK
Solution
The paper packaging finally becomes openable and resealable without ever tear up! Thanks to an eco-designed recyclable system!
It is the only functional system for paper packaging that allows a paper bag to be opened and resealed without tearing: neither while first opening, nor during its entire use.
This system, integrated into your paper bag, allows you to take, pick or pour the product.
Applications
Food industry or others
Dry products
Packaging: Flow pack, Doypack, Quattro seal
Industrial advantages
Recyclable packaging
Hermetic system and barrier before the first opening
Functional packaging until the product is used up
No modification of the bagging process and line speeds
Customization possible according to your graphic charter
Functionalities
Tool-free opening with a reinforced opening area adapted to each use
Easy closing
Convenient pouring
Preservation of the contents in their original packaging