Easy opening labels for flow pack bag,
Up'n Turn
Solution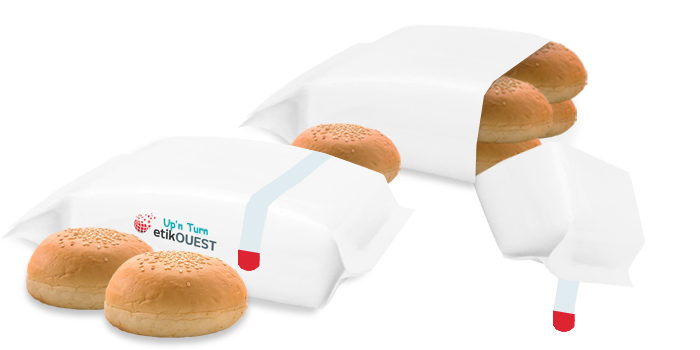 Characteristics of the repositionable opening and closing labels
You are looking for easy to open and close labels for your pillow bags? Etik Ouest offers you the Up'n Turn solution! This opening and closing system is equipped with an easy-to-use repositionable label.
The Up'n Turn solution is composed of a label that allows a flow pack containing stacked products to be closed. The opening and closing label is placed in the width of the pillow bag. It generates a very wide opening which guarantees an easy grip of the products. When closing, the volume of the bag is reduced according to the remaining products: practical!
This repositionable opening and closing label is particularly suitable for low-cost flow packs such as hamburger buns.  It keeps food fresh.
The Up'n Turn solution is practical and economical.
The advantages of resealable packaging with a repositionable label
Up'n Turn fits on :
Solution : 
Up' n Turn is a repositionnable label which allows the packaging with piled products to be opened and reclosed. The volume of the bag adapts itself to the remaining products during closing. The very wide opening allows to take out products contained in the very adjusted flow pack cover comfortably.
Applications :
Agri-food industry and other industries

Piles products in a flow pack bag

Especially suitable for cheap flow pack bag
Functionalities :
Practicality of the packaging

Gripping easy reclosure 

Preservation of content

No risk of inconvenient tear of the bag in spite of the big opening
Industrial advantages : 
Low cost of the packaging, cheaper than a zip

No transformation on the manufacturing lines. No loss of yield

Innovative solution, product differentiation to stand the competition

Customisation with respecting the graphic chart and the identity

Guarrantee the integrity of the product until consumption.

Ensuring security of the first opening and use of the unbroken bag up to the last product