Easy open label,
Up'n Rain Solution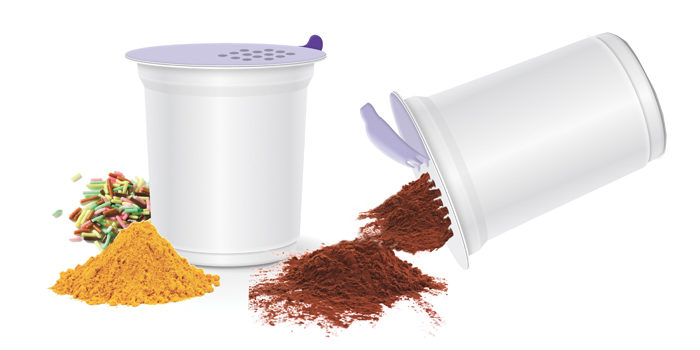 Characteristics of the resealable opening solution
You are looking for simple and intuitive labels for packaging? Etik Ouest offers you a facet of its range of easy to open labels: Up'n Rain!
This resealable opening solution offers different pouring rates, allowing products of different sizes to be poured easily, mastering quantity.
The adhesive label, Up'n Rain, is positioned on the lidding film or on the bag film. All you have to do is to pull the tab and pour to sprinkle. The closure is done by folding the label back to the starting position: easy!
This resealable opening label is particularly suitable for dry, fresh, granular or chunky products.
The advantages of the

Up'n Rain

resealable opening solution
Up'n Rain fits on :
Solution :
Up'n Rain, simple and intuitive as a saltshaker, one simple gesture to open, use and reclose many times ! The system gives various pouring flows, so gives various possibilities to pour different sizes more or less quickly. It is placed on the lidding film or on the packing film. This solution exits in the « clic » version, with a self locking hinge to keep the open position to pour or sprinkle without any pollution of the adhesive labels.
Applications :
Agri-food industries and other industries
Dry and fresh products (grainy, in pieces, fat)
Adapted to all kinds of jars, trays and bags
Functionalities :
Convenience of the packaging
Preservation of content
Easy pouring or sprinkling
Easy dosing
Industrial advantages :
Low cost solution
Innovative solution
Customization with respecting the marketing identity
No transformation on the production line. No loss of yield
Product's integrity guaranteed until full consumption
Secured first opening thanks to tamper evidence and the hermetic cut of its lid